Results





Metallurgical Bond



Galvanizing forms a metallurgical bond between the zinc and the underlying steel or iron, creating a barrier that is part of the metal itself. During galvanizing the molten zinc reacts with the surface of the steel or iron to form a series of zinc/iron alloy layers. Moving from the underlying steel surface outward, a typical galvanized coating microstructure consists of the following layers
The thin Gamma layer composed of an alloy that is 75% zinc and 25% iron,
The Delta layer composed of an alloy that is 90% zinc and 10% iron,
The Zeta layer composed of an alloy that is 94% zinc and 6% iron, and
The outer Eta layer that is composed of pure zinc.

The photomicrograph below illustrates the order of these layers. The Diamond Pyramid Number (DPN) listed under each layer's name is a measurement of the layer's hardness. The higher the number, the greater the hardness.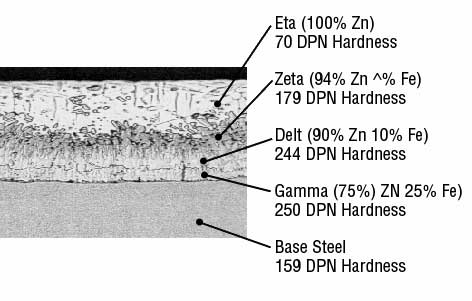 The hardness of the Gamma, Delta and Zeta layers provides exceptional protection against coating damage through abrasion, while the more ductile Eta layer provides the coating with some impact resistance.

Galvanized coating is more adherent to the underlying steel than any other coating available. This, combined with hardness and ductility, provides the galvanized coating with unmatched protection against damage caused by handling or use. In addition, while organic forms of barrier protection (such as paint) are permeable to some degree, galvanized coatings are impermeable.